---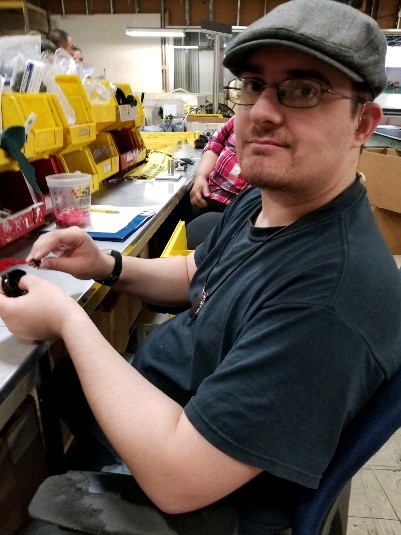 STEPHEN FINDS HIS NICHE AND MAKES HIS MARK
The path to success and satisfaction is often frustrating and can seem elusive. Stephen's story incorporates many of these challenges but concludes with triumph and celebration. After successfully moving through the Center's Pathway to Employment program Stephen was ready to take an additional work readiness enhancing vocational step. Stephen enrolled in the Employment Training Program. In August of 2018 Stephen began an internship at a Hauppauge manufacturing company specializing in crowd control products for airports, airlines, colleges, malls, and various other business and public gathering spaces.
Supported by a full time Employment Training Specialist, Stephen jumped in with both feet and a willingness to find his own niche in the company.
As with all new employees, management and department supervisors placed Stephen in more than one work space in order to both challenge him as well as match him to a department in which he would flourish, be assessed and measured in order to eventually become an asset to the company by meeting company standards. Production lines and product assemblies with quotas are challenging places to be and Stephen worked very hard with his Employment Training Specialist as well as his floor supervisor and the company production supervisor to achieve a skill level that would put him on par with the other employees in his department. After several months of observation, quota oversight, as well as meeting and working cooperatively with an entirely new and diverse group of fellow employees, Stephen was enthusiastically hired by and given an extra work day, moving him up to four hours a day, four days a week with the option of additional days if Stephen wants them. Stephen's motto has always been "do your best and never lose sight of your goals." As a very determined young man who has not given up, Stephen has become an inspiration to his peers and a valued team member at work.